Testimonials
Read these testimonials from people who have used our process. At the bottom there are Video Testimonials from some of our members. Visit our YouTube Channel and upload your own video testimonials - post them as video responses.
---
Video Testimonials:
If you have access to YouTube you can post your own via our YouTube Channel
---
Industry Leader Testimonials:
Debbie Svec
2009 President of the Florida Association of Media in Education (F.A.M.E.) , Direct Elect AASL Region 5
Palm Beach Gardens High School
West Palm Beach, Florida

"For most children reading is hard and writing is even harder. This TV game show format within the Cranium CoRE methods offers an exciting environment that motivates children of any age to read so they can participate in this fun filled event. I highly endorse it as a way to encourage children to read and write."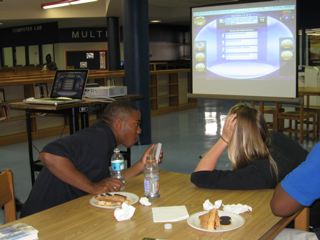 ---

Dr. Blanche Woolls
Past President AASL. Past Director, School of Library and Information Services, San Jose State University
San Jose State University, San Jose, California

"Andy Larson is one of the most creative individuals anyone could find. On top of that, he has never totally grown up. This makes his ideas for attracting children to reading arrive with an adult's perspective, but the heart and soul of someone under 18. His Cranium CoRE vision launches a reading initiative that can attract children with all levels of reading capability. He uses a very familiar format, a quiz show, allowing them to fit the questions to their experience. Andy has been on the cutting edge of motivation for many years. This is going to be a superb reading motivation program."